Bespoke youth rooms
If you want to buy custom-made, quality youth rooms with a design that suits your needs, don't hesitate and come to the Noumobel facilities. Here you can buy all kinds of quality furniture and everything you need so that your teenage daughter or son can create a pleasant environment to rest and work during the afternoons and evenings of the course.
And it is that Noumobel we are specialists in creating personalized environments, where the needs of those who are going to use the furniture prevail. Nothing to do with the modular furniture that is acquired in other spaces and in which it is the person who must adapt to what is offered.
In fact, at Noumobel we are a group of professionals with more than 25 years of experience in the custom furniture, design and decoration sectors. That is why we make our experience available to all our clients with no other objective than to be able to offer a personalized service to their needs. And it is that our objective is to optimize the space of your home, premises or office to the maximum, creating a current and welcoming space.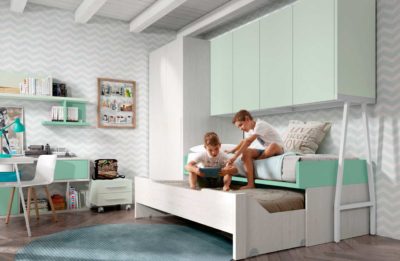 Design your room to measure
Not all houses are the same not all furniture should be offered in the same sizes. However, many large manufacturers do not seem to understand that the houses, the rooms, the spaces we inhabit have nail measures and some peculiarities that they make them different.
That's why, in Noumobel the first what do we do when a client requests our services it is sit down to listen to you and take note of everything you are looking for or need. Even when this client is a teenage boy or girl (or several siblings) who want to get the most out of their room.
Subsequently, we moved to the room in question and took measurements conscientiously following the instructions of the person or people who will use the space and taking into account the different particularities of the room. A necessary first step to design the design project that we will prepare in our studio and that we will present to the client once completed.
When the client or clients give the project the go-ahead, we proceed to its elaboration transferring the order to our factory where they will materialize it in a set time, being able to answer properly to the expectations of our client also in this sense. Finally, we proceed to your installation in the room where it will remain as long as its owners or owners consider appropriate. A time that is usually a lot.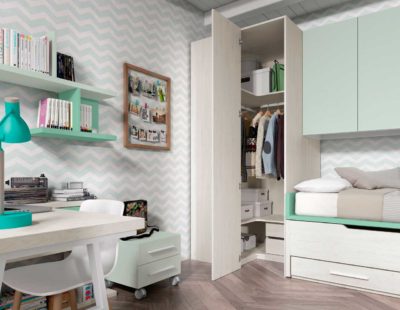 Our virtual space
To know more about our work of rooms and other spaces of the house, visit our website where you can Consult our on-line catalogue. A virtual space in which you can see numerous bespoke youth room proposals, in different colors and with different proposals to make the most of the space.  
In the work section also made can you meet the way in which the different proposals they have stayed in their real spaces, and not in our exhibition spaces.
If in spite of this you have any questions or want to tell us anything, we put at your disposal a form in which you can ask us any question.
So, if you want or need a custom youth room for your home, don't hesitate, visit our physical or virtual store and we will give shape to your requests. You can even request a loan without obligation through our website. And all this with the best price since we serve directly from the factory, without the need for intermediaries. Remember we are in www.noumobel.com.